During a recent trip to Walt Disney World, I was lucky enough to be able to ride the newest ride at Star Wars Galaxy's Edge, Rise of the Resistance (RotR). I have to be honest, I know pretty close to nothing about Star Wars. The ride was awesome!
The wait line to get in doesn't contain a lot of items to hold your attention; however, you can download the Play Disney app on your smart device and entertain yourself while waiting. While we were in line after our boarding pass was called, the ride broke down for a brief period of time but in Disney fashion, they did not disappoint. Cast Members came around offering free bottles of water, bananas, carrots, chips and popcorn. Then Rey came to chat with guests waiting for the line to start moving again. She was escorted by a photo pass photograher who promplty scanned my band as Rey travelled on to the next guests. To our surprise, the photos taken were free to download from My Disney Experience.
RotR is an actual ride and it takes about 20 minutes all together once you leave the line . You start in a room, where Rey and BB8 give you your mission. You are then escorted to another room where you feel like you are in a space ship and you are attacked by the First Order and forced on to their ship. You continue on, leaving your spaceship into a room full of storm troopers then directed on to be sorted in smaller groups. Kylo Ren joins you and asks where your secret base is located. Once he leaves the room, the Resistance comes to break you out. At this point you enter your ride car. These cars do not run on a visible track making it feel more like you are on the ship. You'll have to ride it to find out how it ends.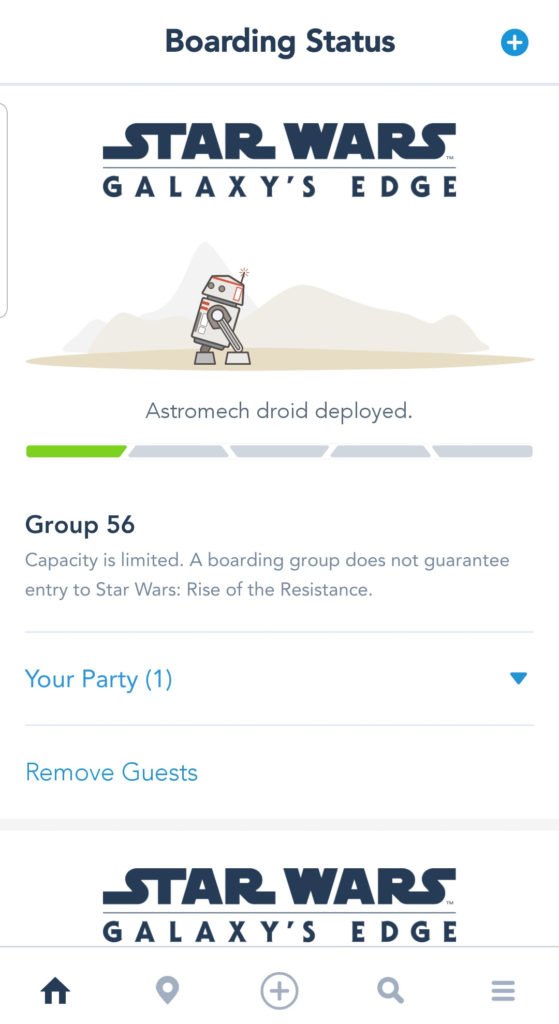 Currently, to get on RotR all members of your party must enter Hollywood Studios to aquire a boarding pass and be placed in virtual queue. All documents and resort staff will tell you the park opens at 8 (or whatever time it normally opens); however, to even get a boarding pass for this ride you need to be at the park by 7:45 at the latest. Most guests are getting to the park about 5:00 am, they are getting a very low boarding number and getting on the ride before or at posted park opening times. We tapped out bands at 7:00am and got boarding group 56 on December 11th, 2019 – 5 days after the ride opened.
Once you get your boarding group, feel free to explore the park or if you have a park hopper, other parks, even Disney Springs. Just be sure to be back and in line when your boarding group is called. They call boarding groups in blocks and it will be displayed on Your My Disney Experience app and information screens throughout Hollywood Studios.
If you're interest in a Walt Disney World vacation, hit me up. monica@bdmtravel.com